Head of the School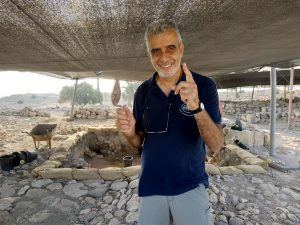 Prof. Israel Finkelstein is a professor emeritus of Archaeology in Tel Aviv University and the Head of the School of Archaeology and Maritime Cultures at the University of Haifa. Prof. Finkelstein is also a member of the Israel Academy of Sciences and Humanities, a foreign member of the French Académie des sciences and the American Academy of Arts and Sciences (AAA&S). He taught in the University of Chicago, in the Sorbonne University, and conducted research in the Hebrew University in Jerusalem. 
Prof. Finkelstein headed several large scale research projects including the excavations of Megiddo and Kiryat Ye'arim.
He has authored and edited some 400 papers and many books including The Archaeology of the Israelite Settlement (1988); Living on the Fringe: The Archaeology and History of the Negev, Sinai and Neighbouring Regions in the Bronze and Iron Ages (1995); The Bible Unearthed: Archaeology's New Vision of Ancient Israel and the Origin of Its Sacred Texts (2003) and David and Solomon: In Search of the Bible's Sacred Kings and the Roots of the Western Tradition (2006), (the latter two with Neil Asher Silberman); The Forgotten Kingdom. The Archaeology and History of Northern Israel (2013 – Prize winner of the Académie des sciences); and Hasmonean Realities behind Ezra, Nehemiah and Chronicles (2018). 
In 2005, Prof. Finkelstein won the Dan David Prize  In 2009 he was awarded the title of Chevalier by the French Ordre des Arts et des Lettres. In 2010 he was awarded an honorary doctorate from the University of Lausanne, and in 2017 he received the MacAllister Field Archaeology Award from the American Schools of Oriental Research. 
Between 2009-2014, Prof. Finkelstein was a Principal Investigator in a European Research Council (ERC) funded project titled Reconstructing Ancient Israel: The Exact and Life Sciences Perspectives. Between 2008-2014 he was the editor for TEL AVIV, the Journal of the Archaeology Institute at Tel Aviv University, published in the UK. 
Contact Information
Tel. +972-4-8288947 
E-mail: ifinkel1@univ.haifa.ac.il
School of Archaeology & Maritime Cultures
University of Haifa
Multi-Purpose Building
Room 112.
199 Aba Koushy Ave., Mount Carmel Haifa 3498838